IT Process Maps - News
Get the latest news about IT Process Maps, and stay informed about important changes and updates to our ITIL Wiki.
Connect with us on the social networks
IT Process Maps - Milestones
Webinar: ITIL and service management processes for BIC Process Design
September 20, 2023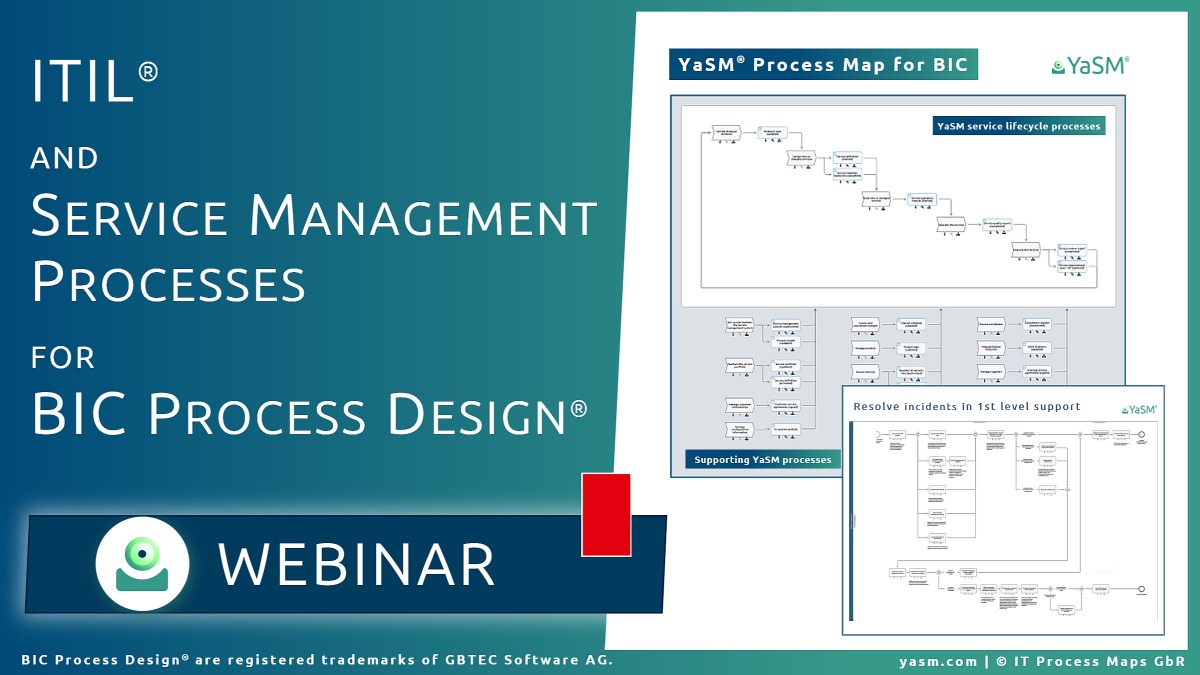 We have just completed the latest version of our service management process model: The ITIL 4-compliant YaSM® Process Map for BIC Process Design®. Join Stefan Kempter from IT Process Maps for a webinar on October 10, 2023 to learn more about the benefits of using the YaSM® process templates for BIC in your organization!
15th anniversary of the free ITIL Wiki
January 8, 2023
It is now 15 years since IT Process Maps published the first version of the free ITIL® Wiki, and over the years the 'IT Process Wiki' has grown into one of the most popular destinations on the internet for those who want to learn about ITIL® and IT service management best practice.
ITIL Process Map for ITIL 4
September 8, 2020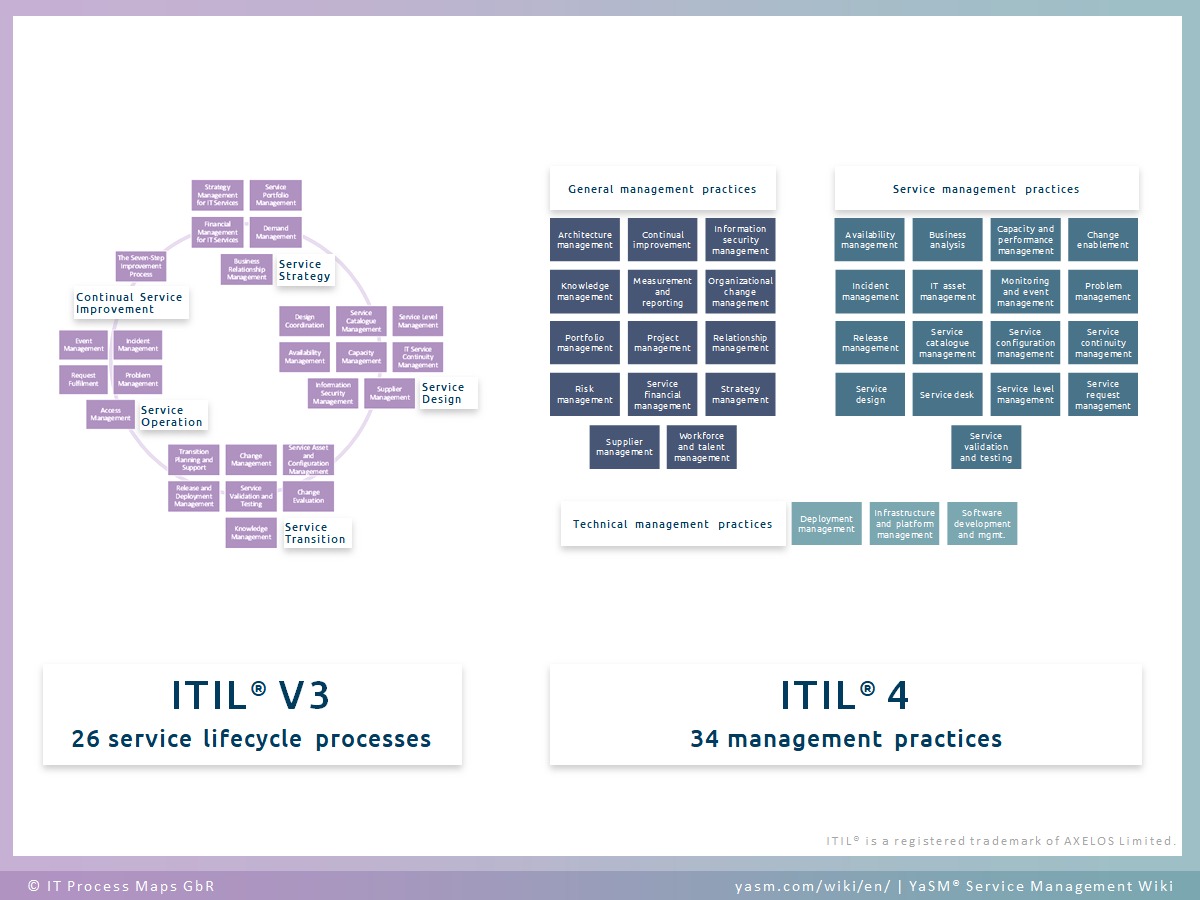 ITIL 4, the latest release of ITIL, is not a minor overhaul of the previous ITIL V3 but a completely revised body of knowledge. Will there be an updated ITIL® Process Map for ITIL 4?
Free ITIL Templates - Officially Reviewed
October 6, 2019
Free ITIL templates. - The 'ITIL templates' in our ITIL Wiki (a selection of templates from our ITIL Process Map) are officially reviewed by AXELOS.
The ITIL 4 update
March 5, 2019
We have compiled the key facts about the new ITIL 4 edition in our ITIL Wiki.
A recording of our popular ITIL webinars
November 23, 2016
Best practice for IT service providers: The webinar on ITIL and the ITIL Process Map is also available in an on-demand version.
Free Project Management Templates
February 19, 2016
Free project management templates. - Essential also for your ITIL project: Basic knowledge, checklists and tips for project management.
ITIL Repository Add-In for Visio 2016
February 9, 2016
Microsoft has recently published the latest edition of Visio® 2016. The appearance of Visio 2016 provided an opportunity to update the repository add-in for Visio that comes with the ITIL® Process Map.
Video: The RASCI Matrix - a powerful tool for managing responsibilities in ITIL processes
September 7, 2015
The ITIL Process Map uses a RASCI matrix to provide a summary of the ITIL roles and their levels of responsibility in the various ITIL processes.
Free Problem Record Template
September 19, 2014
The problem record template explains the structure of the data typically contained in a problem record, which describes the complete life cycle of a problem from identification to resolution.
YaSM Wiki: The new wiki on the YaSM® service management framework
September 6, 2014
A brand-new wiki on the YaSM® service management framework: The YaSM Wiki is the ideal starting point for learning more about service management (enterprise service management, ITSM, ISO 20000) and service management in general.
YaSM - Yet another Service Management Model
August 30, 2014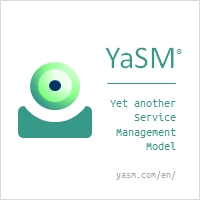 The new, streamlined YaSM service management framework provides guidance for organizations in the business of delivering services.
Are you searching for suitable ITIL 2011 metrics?
August 24, 2014
Process owners use objective quality criteria or metrics to assess whether their processes are running according to expectations.
ITIL and the ITIL Process Map on LinkedIn
April 5, 2014
New LinkedIn Showcase Page on ITIL and the 'ITIL® Process Map' - if you are on LinkedIn, please check it out - we hope you like it!
How to implement ITIL in 10 Steps - Infographic
July 1, 2013
A Project Guide in 10 Steps: What needs to be considered when planning an ITIL project? Is there a tried and tested approach to implementing ITIL?
ITIL Glossary Terms People search for
June 17, 2013
We are happy to introduce an enhanced and restructured ITIL glossary as part of our ITIL Wiki with the most commonly searched ITIL and IT service management (ITSM) terms.
Now in the new channel layout: The ITIL Process Map on YouTube
May 19, 2013
ITIL and the ITIL Process Map on YouTube: Our YouTube channel now presents itself in the recently introduced new lay-out.
ITIL Process Map also for Visio 2013
March 6, 2013
As you may have noticed, Microsoft has recently published the latest edition of Visio 2013. The Visio add-in included in the ITIL Process Map (the "ITIL Repository Feature") had to be updated to be compatible with Visio 2013. If you are an existing customer, you may receive the latest version of the ITIL Visio add-in, including an updated user manual, free of charge.
IT Process Maps on Pinterest
February 17, 2013
IT Process Maps is now present on yet another social media platform: Pinterest.
New: A Bridge between ITIL and ISO 20000:2011
June 13, 2012
The ITIL - ISO 20000 Bridge has been brought in line with the latest version of ISO 20000:2011. It is now available as an add-on to the ITIL Process Map.
LCA - Building and exploiting the Service Management System
June 1, 2012
Lea-Cox & Associates (LCA), a partner of IT Process Maps GbR based in the UK, has just released an upgraded and special set of services and products which are designed to help organizations build and exploit their Service Management System (SMS) to maximum advantage.
ITIL Process Map for iGrafx®
May 14, 2012
The 2011 edition of our ITIL process model for iGrafx® is now available in English and German.
Now available: ITIL Process Map 2011 Edition
April 13, 2012
Following the publication of the 2011 edition of ITIL in July 2011, the ITIL Process Map has been adapted to the latest guidance. The ITIL process templates are now compatible with ITIL 2011 and ISO/IEC 20000:2011.
The ITIL Process Map 2011 Edition with official ITIL License
March 25, 2012
A significant milestone has been reached in updating the ITIL Process Map to ITIL 2011 and ISO/IEC 20000:2011. Our ITIL process model has successfully passed a thorough review and is licensed under the AXELOS licensing scheme. The ITIL Process Map is thus the first independently assessed process model for ITIL 2011 on the market!
The ITIL Wiki: ITIL 2011 Update
February 2, 2012
What is new in ITIL 2011, the new ITIL edition published at the end of July 2011? In our ITIL Wiki we provide more insights on the main changes and differences between ITIL 2007 and ITIL 2011.
The ITIL Process Map now with official ITIL Licence
August 7, 2011
The ITIL® Process Map has successfully passed a review by APMG, resulting in the awarding of the "ITIL® Licensed Product" logo.
ITIL Processes - a web based solution
March 20, 2011
IT Process Maps teamed up with Ernst Fichtner, Austria, to create the ITIL V3 Process solution for the web based PRIMERO environment.
New: ITIL V3 Processes in Holocentric
September 5, 2010
New: The ITIL V3 Process Model for the Holocentric™ Modeler and Modelpedia environment is ready!
ITIL RACI Matrix for the ITIL Process Map
November 19, 2009
New: A User-friendly RACI Matrix in the form of an Excel spreadsheet is now part of the ITIL Process Map.
ITIL Reference Model for IBM Rational System Architect
September 7, 2009
IT Process Maps teamed up with Lea-Cox and Associates, UK, to create the first ITIL V3 Reference Process Model for IBM® Rational® System Architect® available on the market.