IT Process Maps News
12th anniversary of the free ITIL Wiki
Lindau (Bodensee), January 4, 2020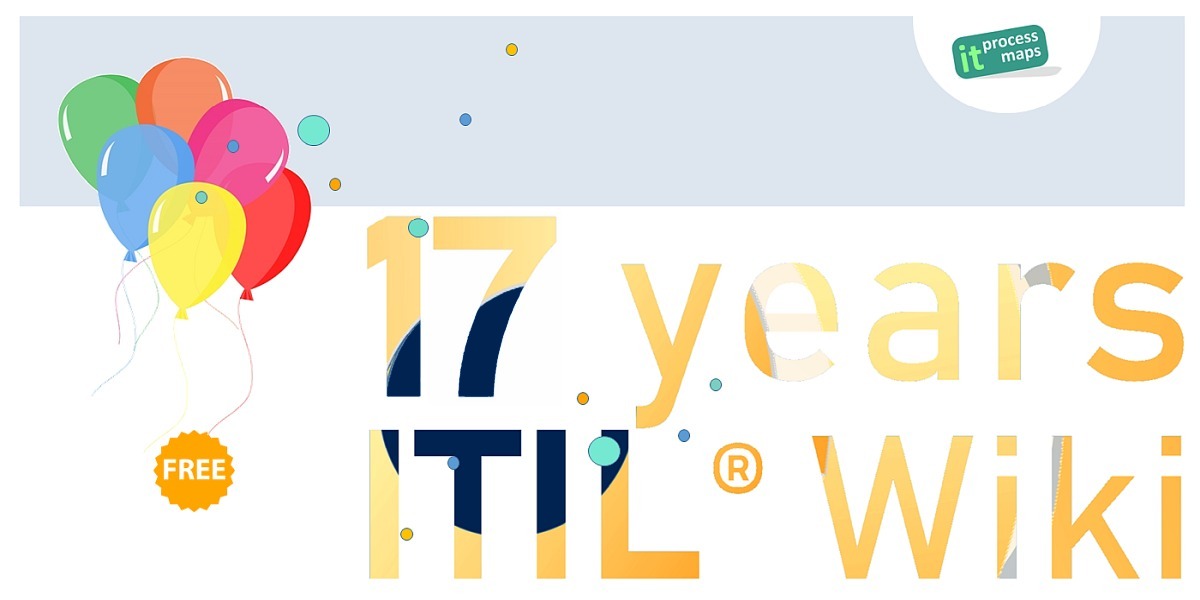 It is now twelve years since IT Process Maps published the first version of the free ITIL® Wiki, and over the years the 'IT Process Wiki' has grown into one of the most popular destinations on the internet for those who want to learn about ITIL® and IT service management best practices.
Millions of visits to our Wikis in English, German and Spanish from more than 190 countries are proof that there is strong demand for ITIL and its best practice recommendations!
Free ITIL® resources
The Wiki is perfect for ITIL® beginners, but it is equally valuable for experienced practitioners with content such as:
The ITIL Wiki also contains a section about ISO/IEC 20000 - the leading service management standard. Organizations that are certified against ISO 20000 are able to prove that their processes are in line with ITIL and service management best practice.
Finally, our time-tested project blueprint for "ITIL in 10 steps" helps you with planning, executing and successfully completing your ITIL or ISO 20000 initiative.
User feedback about the IT Process Wiki
Throughout the years, we kept receiving a lot of positive feedback, and here are some examples:
"I am one of the followers of your website "wiki.en.it-processmaps.com". I should say that this is one of the best sources of ITIL, and you guys are really doing a great job. I have cleared my ITIL Foundation certification by following the contents on this website.

This site is constantly updating with the latest updates in ITIL industry. It's a great "bible" for the people in the ITIL domain. I usually tell my colleagues to refer to this site for any information related to ITIL."


"Your ITIL Wiki is really a great reference for me to implement ITIL best practices in my new professional environment."


"I must admit that I have used the IT Process Wiki to gain a deeper understanding of ITIL and use it often. Great work! Please, if there is anything I can do for you then do not hesitate to ask."


"First of all, I would like to thank you for your great and very informative IT Process Maps website and your ITIL Wiki, which has often helped me and my students to understand the details. [...]"


"The ITIL process model first came to my attention when I was searching for more information about the ITIL processes during my studies. Your wiki pages turned up on "every search".

Meaning I valued the free stuff and think it gives huge value to the ITSM community. Thanks for the free stuff and for bringing the product to live."


"[...] I found your Wiki site a great resource when I made the jump from ITSM tools architect to an ITIL process consultant.

As a starting point for someone in ITIL, I have yet to find a resource out there that matches it!

I look forward to continuing to use it in my work."
Click here to go to the IT Process Wiki - we look forward to your visit!